At the Altar of Time: A Solo Exhibition by Anouska Beckwith
28 September 2022 11:00

-

18:00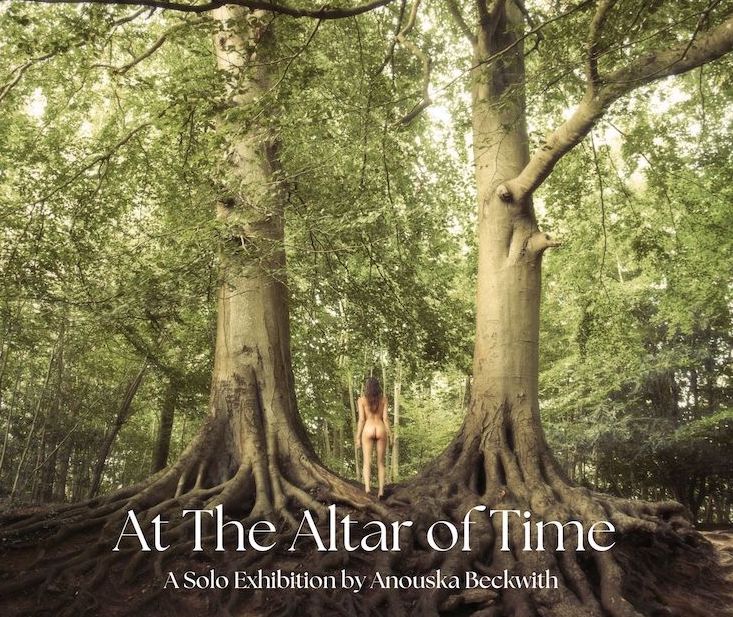 A self-described disciple of nature, Anouska Beckwith's latest exhibition is a love letter to the Earth.
The title of the exhibition At The Altar Of Time tells the story of the female subject as a portal to the divine, capable of indescribable miracles, a vessel of sacred life; a Goddess in union with Mother Earth, more fierce, more capable, more beautiful than we've ever let on.
Kitty Cavalier describes it perfectly when she says, "The curves of the female form have the power to stop a war and start a revolution."
At The Altar of Time, the title image is of a woman standing in between two large beech trees which symbolise the death or end of something, but also stand for the changes that arise through realisation. These trees also represent the Goddess Diana, who presided over forests and woodlands. Diana has been considered a triple deity, merged with a Goddess of the moon Luna and the underworld Hecate.This image captures the subject going through a portal; an altar to enter into the Spirit world. As its gift is the revelation of experience, the Beech trees suggests one should cross the threshold that is challenging, gain experience from the unknown, seek revelation and increase knowledge.
This collection of works was created over the past ten years, shot in England, France and Spain. The show looks at movement, musicality and performance in communion with the natural world.
The power of nature and the feminine are present throughout Beckwith's work, manifesting in photographs which communicate a world of dramatic beauty, the ethereal and recall the paintings of the Romantics and impressionists. To be transported back to her favourite era and reimagined as tapestries in the style of the leading women who inspired Millais and Rossetti is evident in the exhibition with pieces like 'A story of Ophelia' and An Ode to the Dancer and Dreamer.'
At the Altar of Time is open at the Fitzrovia Chapel between Wednesday 28 and Friday 30 September, 11am to 6pm daily (Wednesday until 7pm). Entry is free.
Related Events