Help Keep our Floor Fabulous
As part of our Help Keep our Floor Fabulous campaign this year, we are asking for help to raise £5,000 to carry out urgent conservation work on our beautiful mosaic floor. Hundreds of people visit the chapel each month for our free open days and audio events, exhibitions, weddings, baby namings, memorials and guided tours. While this is a wonderful thing, unfortunately a whole panel of tiles has become loose as a result of visitor numbers and is in real danger of further damage. To keep the chapel open and accessible for generations to come, we desperately need to bring in specialist skills to guard against further deterioration.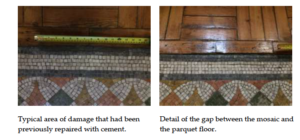 Spot the damage
But you don't need to be a specialist to spot the damage. If you visit the chapel, you'll be able to see for yourself the degraded green, grey and sienna coloured diamond mosaics. Along the edges of the borders, where the mosaic meets the parquet flooring, there have been previous repairs (before the Fitzrovia Chapel Foundation began caring for the building) in cement and coloured resins to fill gaps and re-grout. There is damage from footfall along this edge and from the unsuitable materials used in former times.
History and design
The floor has a rich history and forms an intrinsic part of the chapel's charm for visitors. In the chancel and sanctuary behind the alabaster lectern are complex pavements of opus alexandrine, a type of decorative pavement work made from unglazed tiles and cut stone widely used in Byzantium in the ninth century. This style evolved throughout the next millennium to include Roman cosmati design which can also be seen throughout the chapel with its characteristic red porphyry and green serpentine colouring. There are simpler tessellated floors in the body of the chapel surrounding the parquet tiling which used to hold pews.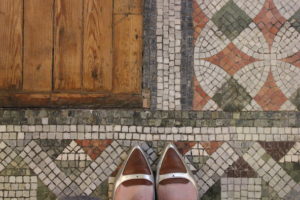 'Gothic, Italian Romanesque' is the wording used in our Historic England listings, and the main floor in the nave is where Roman influences really show themselves. There are weaving tessellations of amber, green, red and white tiling familiar from church floors across Europe and in Italian ruins.
A space dearly loved
If you've visited us or read about our history, you'll know the chapel (the only surviving building of the Middlesex Hospital) is dearly loved by the communities it serves. Whether it's for a quiet moment of reflection, a heritage event or a free exhibition, the chapel offers a treasured space like no other — and often when there is no other. We know how much you value the space because you tell us:
'When I walked through the door, I was reminded of Saint Chapelle in Paris. … the floor-to-ceiling mosaics take your breath away when you enter. It is a gorgeous jewel box of colour and a real feast for the eyes, I could have stood there and looked around for hours.'

'This place is a treasure located in a quiet square. A real marvel of an architecture dream rich in art work.'

'Divine. Unbelievably beautiful interior, gold and lapis tiles abound. Small but perfectly formed, tucked away in the centre of London. A magical location for a special day.'
How to donate
Every donation is important in helping preserve the chapel's legacy. You can donate online to Help Keep our Floor Fabulous by simply clicking on our Kindlink donation page or at the chapel itself when we are open. Thank you very much for your help.
Main image courtesy of Barbara K Photography.