A Unique Exhibition Space
We welcome art galleries based in the UK and throughout the world to exhibit at the Fitzrovia Chapel. We have hosted exhibitions by galleries, artists and cultural organisations including the Stephen Friedman Gallery, Richard Ingleby Gallery, the Horiuchi Foundation, Erskine, Hall & Coe, photographer Richard Ansett and TJ Boulting Gallery. The chapel has taken part in Photo London, London Craft Week and Frieze. We are experienced at showing and promoting high-quality exhibitions in our beautiful space.
An architectural, historical and design masterpiece in its own right, the chapel provides an inspiring backdrop — and sufficient empty space — to show artistic pieces in the most stunning way. Your exhibition will gain publicity not just by its own merit but by its association with the chapel which often becomes a talking point in reviews and articles.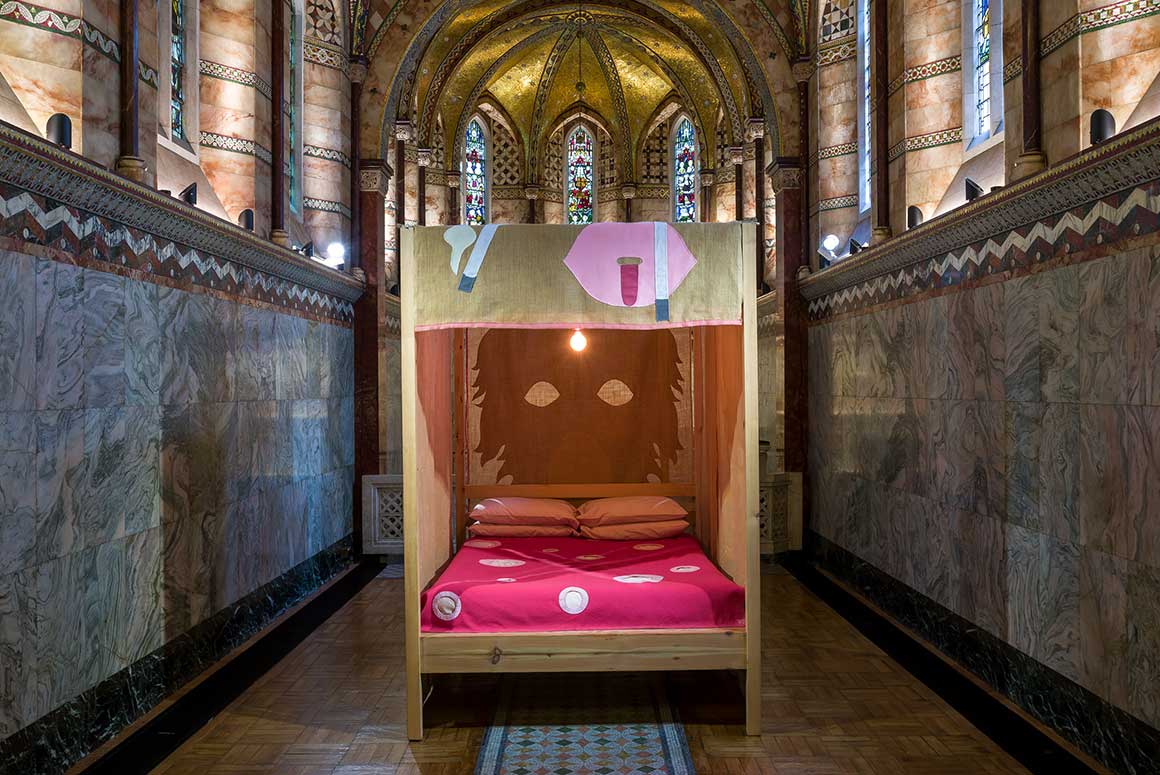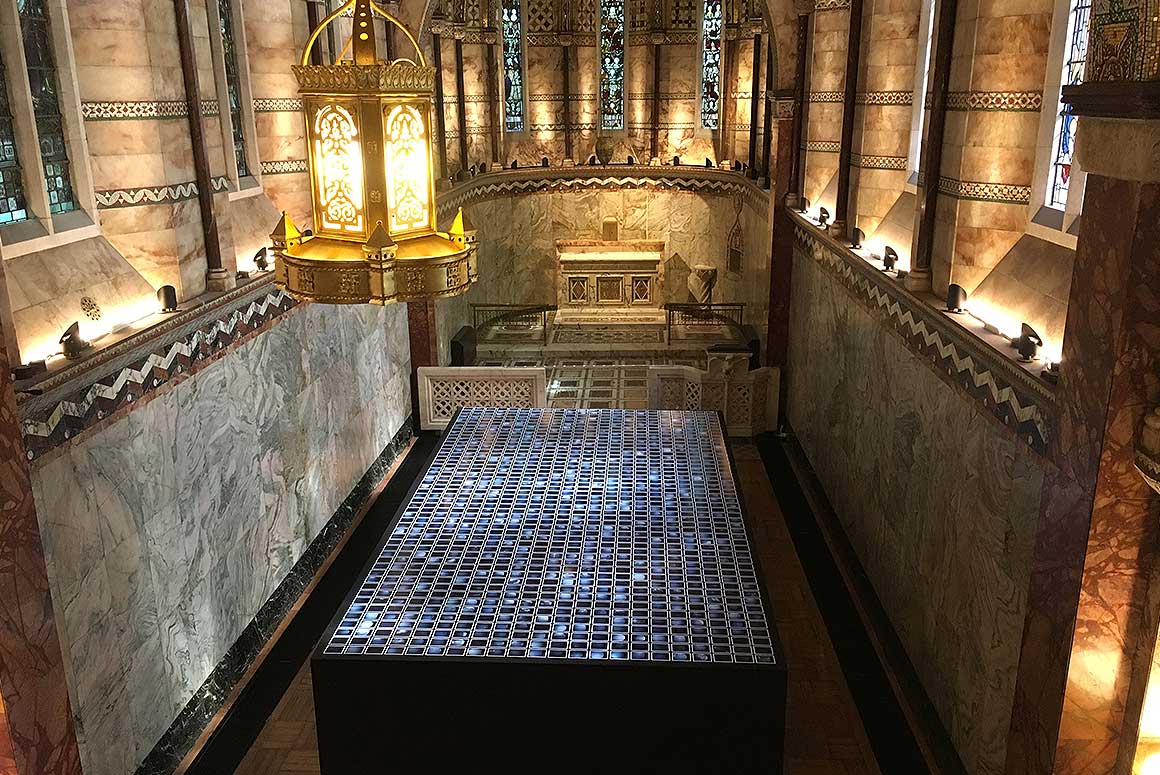 Portraits for NHS Heroes
Artist Tom Croft created a virtual exhibition (installed and scanned observing Covid-19 government guidelines) at the Fitzrovia Chapel, showcasing portraits of NHS staff created during the coronavirus crisis. Portraits for NHS Heroes includes work by 15 artists, all members of the Contemporary British Portrait Painters, which represents many of the top portrait painters living and working in the UK. The chapel's chair, Hannah Watson, said: 'We've heard so many wonderful and poignant stories from medical staff who worked at the Middlesex Hospital about how the chapel was a place of great solace and respite for them, a space to draw breath in difficult times. During this period of national crisis, therefore, we're delighted that the chapel is being used to host this virtual exhibition highlighting the incredible dedication and human stories of our NHS staff.' Take the virtual tour today by clicking on the link on the right.
"Come and worship this week at jewel-like Fitzrovia Chapel where Richard Ansett has installed me as an icon."
"The installation in the flesh as presented within the particular context of the Fitzrovia Chapel is disquieting and arresting."
Brett Rogers, Director, The Photographers' Gallery
Chapel's Cultural Programme
The chapel runs its own cultural programme with shows linked to our history as a former hospital chapel or our ties to Fitzrovia. The Ward and The Ward Revisited followed the lives of four young men on the Aids wards of the former Middlesex Hospital in film and photographs. Other exhibitions focused on the Welsh artist and former Fitzrovia resident Nina Hamnett and the most loved and valued pieces of art chosen by Fitzrovia neighbours from their own homes in Dwelling. In 2022, we presented Leigh Bowery: Tell Them I've Gone to Papua New Guinea and Caroline Walker: Birth Reflections. We have also presented Lee Miller: Nurses.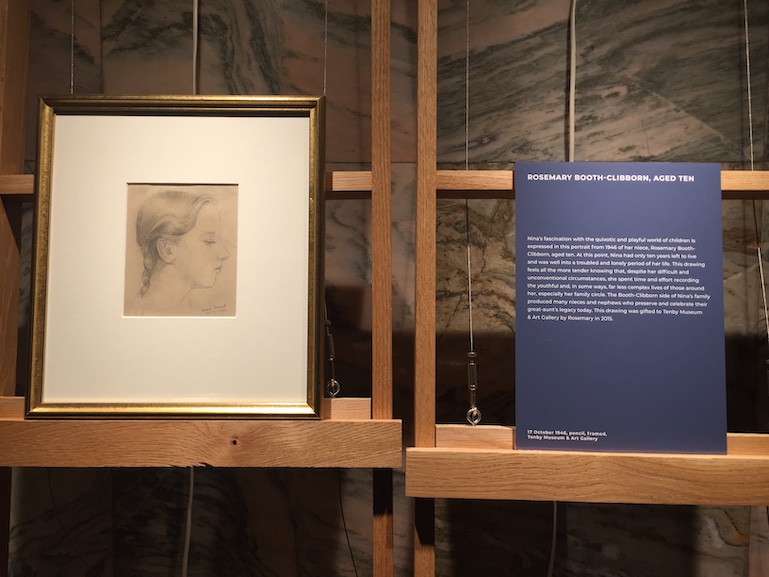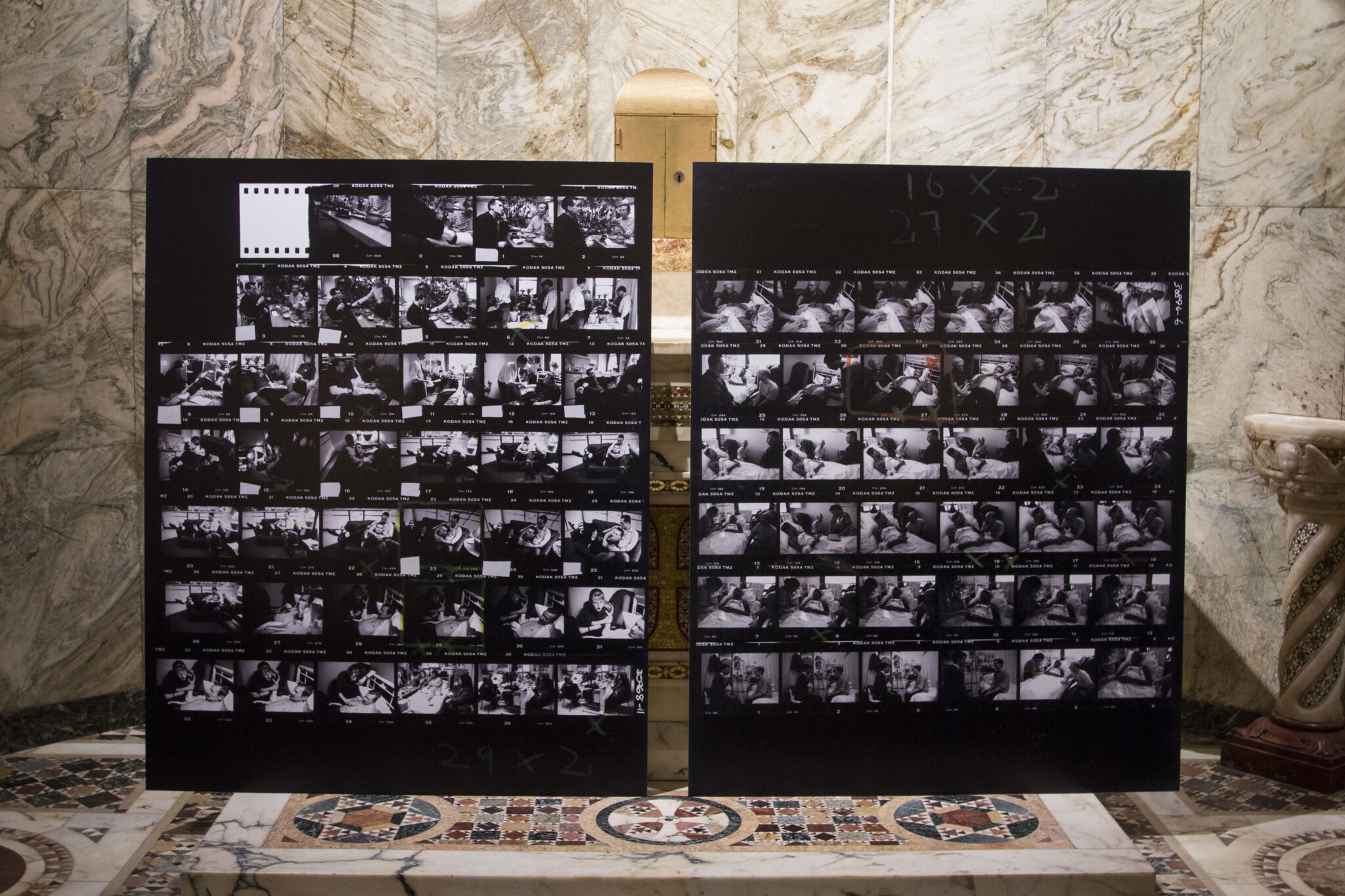 Stephen Friedman Gallery
Stephen Friedman Gallery presented hand-painted sculptures by artist Yinka Shonibare MBE during Frieze London in October 2018 and an interactive installation by Jonathan Baldock in 2019.
Richard Ingleby Gallery
We were delighted to welcome Richard Ingleby Gallery in residence during Frieze London. Artists David Batchelor, Jonathan Owen, Kevin Harman and Peter Liversdge were presented during the show.
Horiuchi Foundation
The Horiuchi Foundation presented a series of photographs at the chapel by Tomohiro Muda. The exhibition was called Icons of Time: Memories of the Tsunami that Struck Japan and was a photographic record of artefacts left behind in the wake of the disaster in 2011. It formed a satellite event for Photo London.
Erskine, Hall & Coe
This major London ceramics and sculpture gallery hired the chapel to present Claudi Casanovas's third solo exhibition with Erskine, Hall & Coe. Quart Minvant explored the concept of emptiness with six massive stone sculptures in the jewel-like interior of the chapel.
TJ Boulting
TJ Boulting is a contemporary art gallery based nearby in Fitzrovia. In 2017, they presented a large-scale installation  called Jenga by artist Stephanie Quayle, which had first been shown at the Venice Biennale 2015 as part of the Azerbaijan Pavilion, curated by Artwise. Director Hannah Watson says: 'The stunning backdrop of the chapel provided a unique and special presentation of the work, with the natural materials of clay and wood offset beautifully by the marble and mosaic of the chapel. As the chapel's architecture is inspired by the Basilica of San Marco in Venice, there was also a serendipitous Venetian connection.'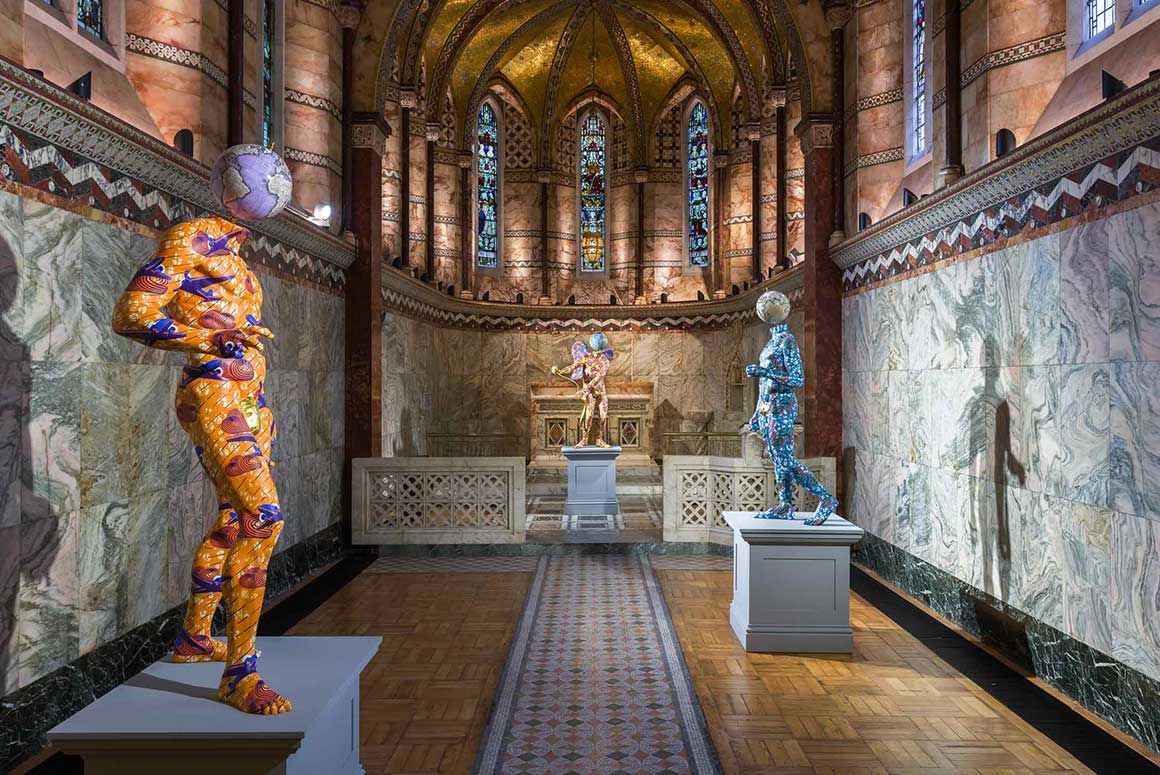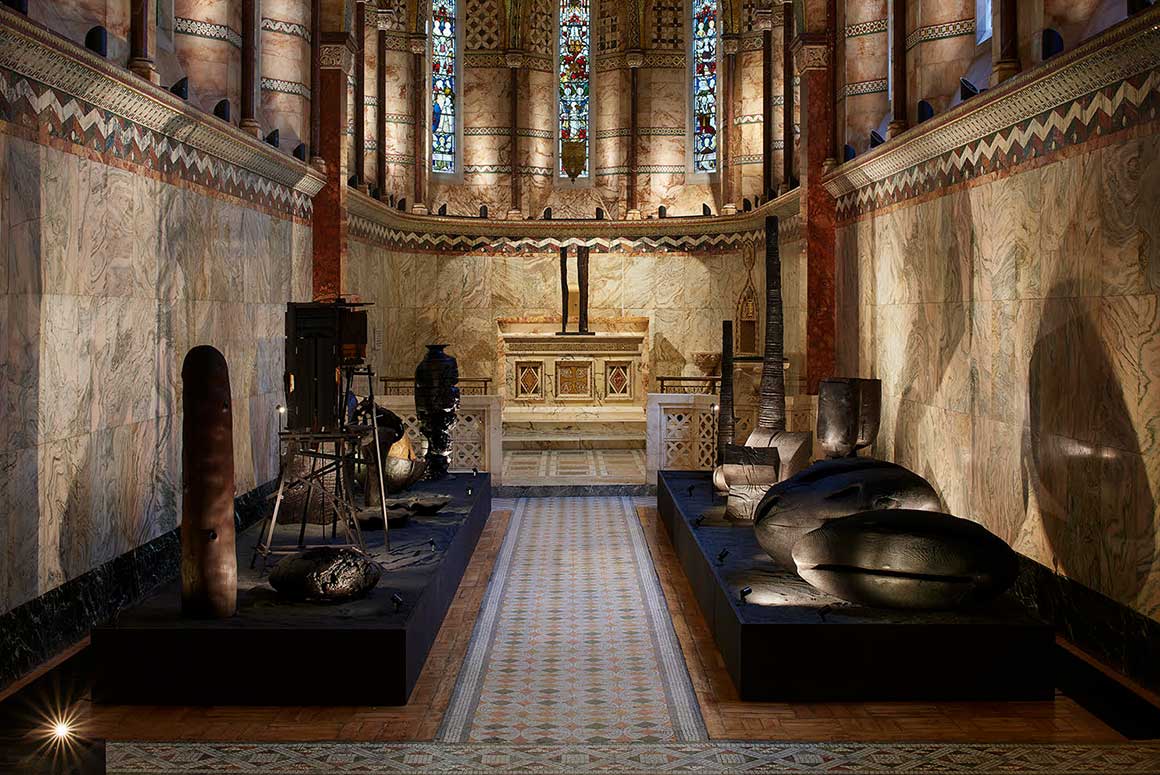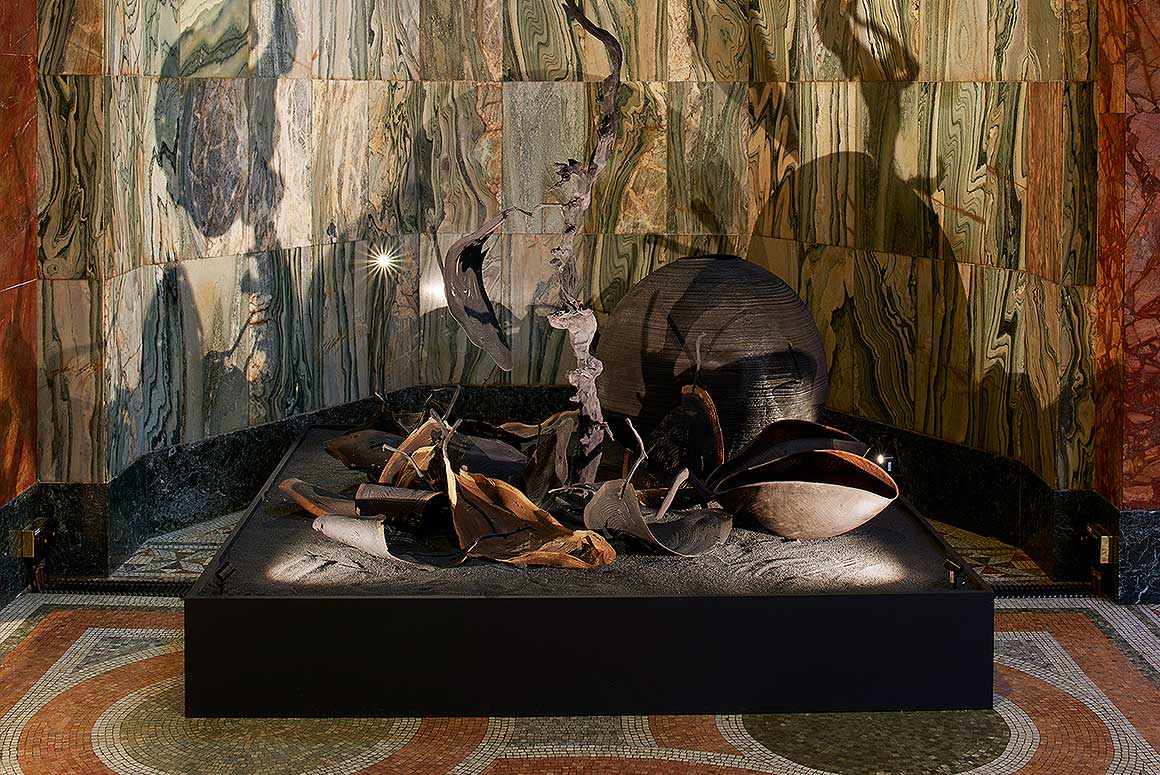 If you are an art gallery, an arts-focused organisation or an artist or photographer who would like to discuss venue hire for your exhibition or show, please contact our Director using this contact form. Alternatively, you can book an appointment to visit us, arrange a no-obligation Zoom meeting or arrange a callback.